Helmi Kuirinlahti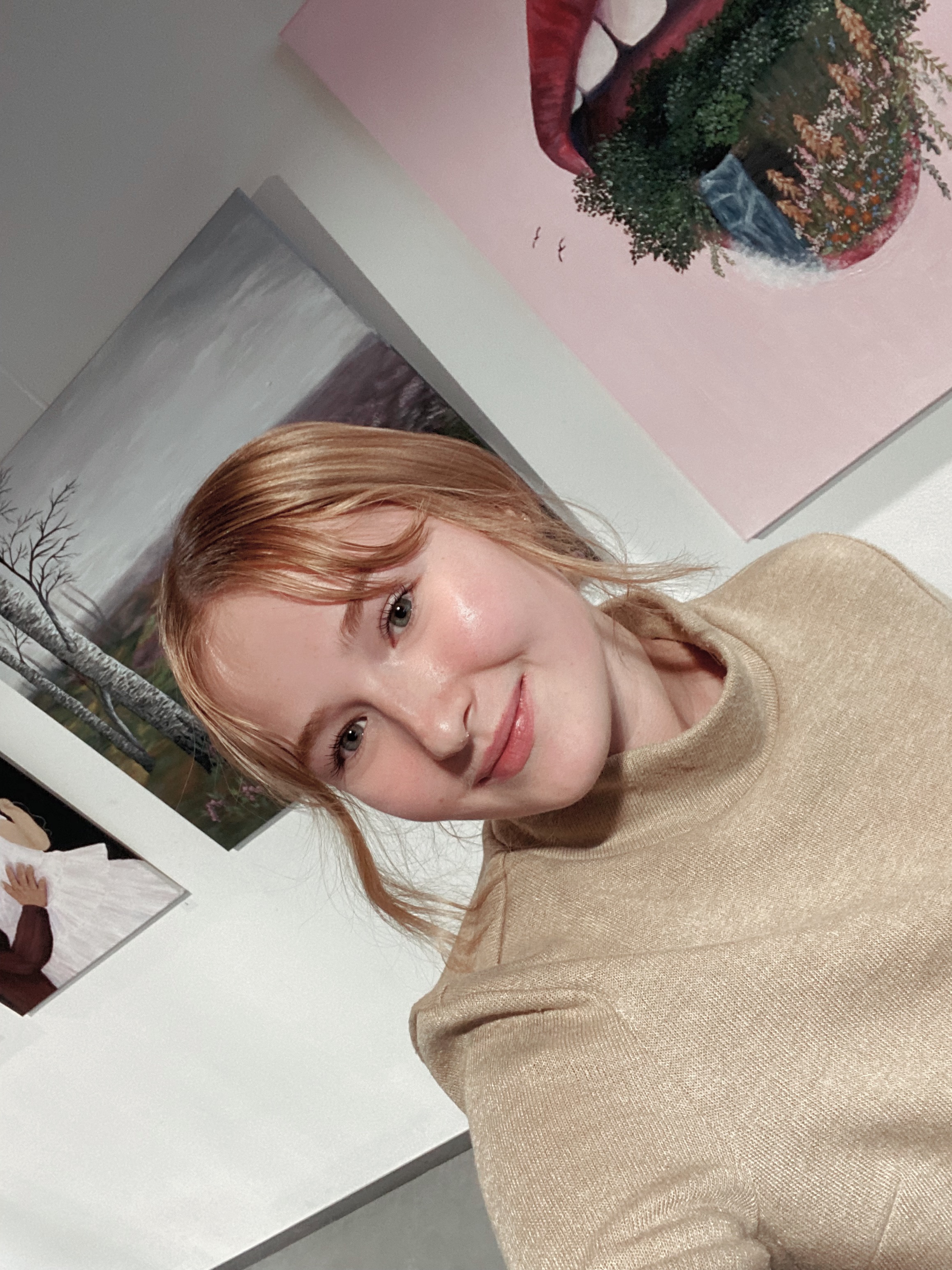 Hei! Nimeni on Helmi Kuirinlahti, olen nuori taiteilija Turusta. Taiteen tekijänä olen kokeileva, klassinen ja yksityiskohtainen. Tykkään sekoittaa ja kokeilla eri materiaaleja, sekä esittävää ja abstarktia taidetta. Inspiroidun väreistä, erilaisista kertomuksista ja symboliikasta.
Ikä: 20
Tekniikat:
Acrylic painting, Acrylic painting, Acrylic painting, Acrylic painting, Acrylic painting, Acrylic painting, Design, Digital painting, Digital drawing, Digital drawing, Digital painting, Drawing, freedom, Illustration, Recycling art, visual arts, Illustration, Painting, Mixed media, Mixed media, Mixed media, Design, Painting, Drawing, Pouring / maalin kaataminen, Realistic art, Realistic art, Recycling art, Mixed media, freedom, Watercolor painting, Video, visual arts, Watercolor painting, Environmental art
Teemat:
Abstract, Abstract, Animals, Art, Still life, Bullet journal, Bullet journal, City, Climate change, Creative, Dreamy, Animals, Life, exhibition, Feelings, Freedom, Friendship, girlhood, Growth, growth story, Identity, Identity, People, Relationships, Climate change, Kantaaottava, Growth, City, Landscape, Life, Nature, Creative, Landscape, Portrait, naisellinen, Nature, exhibition, nuoritaide2021, nuoritaide2021, Self-portrait, Peace, People, Portrait, Peace, Relationships, Religion, Self-portrait, shelter, Society, Still life, Storytelling, shelter, Art, Storytelling, Feelings, girlhood, Dreamy, Religion, Freedom, Society, Friendship
CV:
Näyttelyt
Luonto puhuu, yksilönäyttely, Oodin nuorisotila Helsinki 20.9.-16.10.2022
GalleriaValtaus, NuoriTaide, yhteistyössä Redcarpet Finland & VR-matkalla 28.8.-16.9.2022 
Nuori Taide Helsinki 2022 taidenäyttely -Jälki, Kanneltalo Helsinki 2.6.-23.6-2022 
B-galleria postitaidenäyttely 2.-19.6.2022 -> näyttely kokonaisuus siirtynyt näyttelyn päätyttyä Tampereen Postimuseon arkistoon 
The Holy Art virtual art exhibition – artfusion (taidegalleria sijaitsee Lontoossa, Englannissa) 27.02.-05.03.2022 
The Holy Art virtual art exhibition – young blood (taidegalleria sijaitsee Lontoossa, Englannissa) 14.02.-20.02.2022
Galleriamaan nuoret taiteilijat taidenäyttely 01.05.2021-31.12.2021 
Nuoritaide-tapahtuma taiteenesittäjä 22.05.2021 
Tunnustukset & avustukset
Suomen Taiteilijat ry jäsen
Euroopan nuoriso teemavuosi (yhteistyössä Erasmus+ & Euroopan solidaarisuusjoukot) tapahtumatuki – tuki myönnetty Ihmistoivo taiteilija kollektiivimme toteuttamaan Galleriavaltaukseen
Roots -idea-apuraha 
Nuoritaide 2023-tapahtuman tapahtumatuotannon jäsen.
Nuorisoseurat, Paavo Väyrysen rahasto valitsi teokseni "Suoja" palkinnoksi nuorelle teatterin tekijälle 6.12.2021
Ihmistoivo -taiteilijakollektiivi, perustajajäsen
Lukio kuvataidediplomi arvosanalla 10